Description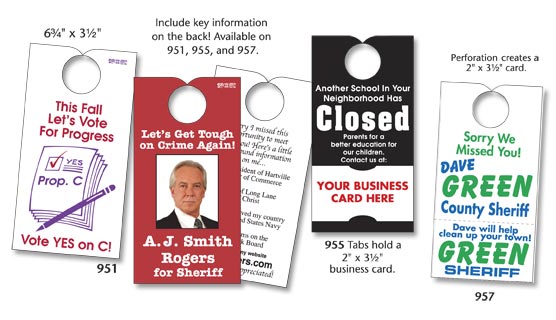 Style #951 is a standard door hanger.
Style #955 is constructed
with tabs to hold a 2″ x 3 1/2″ business card.
Style #957 features perforation at the bottom
to create a 2″ x 3 1/2″ card.
Include key campaign points by
imprinting the back of any of these styles.
Double Sided 4 Color Process
Door Knob Hangers
8 1/2″ x 3 1/2″
1000
$155.00
2000
$220.00
2500
$235.00
5000
$375.00
10000
$700.00
25000
$1,600.00
Double Sided 4 Color Process
Door Knob Hangers
4″x9″
1000
$180.00
2000
$250.00
2500
$270.00
5000
$440.00
10000
$795.00
25000
$1,825.00
Double Sided 4 Color Process
Door Knob Hangers
4″x11″
1000
$210.00
2000
$285.00
2500
$310.00
5000
$500.00
10000
$915.00
25000
$2,100.00