ONE-STOP SHOPPING FOR ALL OF YOUR
IMPRINTED CAMPAIGN MATERIALS!
STOCK DESIGNS
We can add your copy to any of the following poster designs.
These designs can also be adapted to create other campaign items
such as bumper stickers, buttons and roll labels.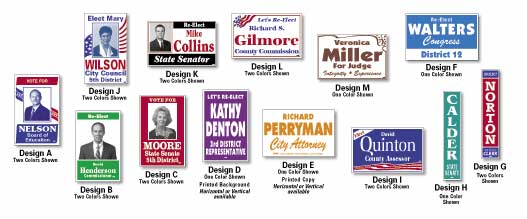 Can't find exactly what you are looking for? Let us create custom art for you.
Give us a call or send an email and let us know what you have in mind.
Mark, Lisa and the rest of the CAMPAIGNBIZ Staff look forward to working with you to create
WINNING CAMPAIGN MATERIALS FOR YOUR WINNING CAMPAIGN!
NOT A POLITICAL CAMPAIGN? NOT A PROBLEM.
We work with a variety of businesses to create imprinted marketing materials. Give us a call.
WE WANT TO WORK WITH YOU!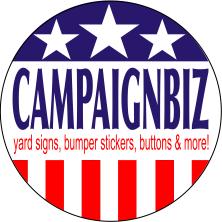 Winning Campaign Materials for
Winning Campaigns!
Call 800.526.8414
or
EMAIL: info@campaignbiz.com