NOT A POLITICAL CAMPAIGN?
NOT A PROBLEM.
We work with a variety of businesses to create imprinted marketing materials.
Give us a call.
WE WANT TO WORK WITH YOU!
If you don't have artwork
for you campaign materials,
we can create it for you
FREE OF CHARGE!
Take a look at our Stock Designs for ideas.
CLICK HERE
ONE-STOP SHOPPING FOR ALL OF YOUR
IMPRINTED CAMPAIGN MATERIALS!
SPONGES
Novel, useful and easy to distribute.

Compressed Sponge Expands When Wet!
2 TYPES TO CHOOSE FROM!
Super Soaker Sponges or Pop Up Sponges

NO SET-UP CHARGES! NO ART CHARGES!
UNION LABEL AVAILABLE AT NO ADDITONAL CHARGE!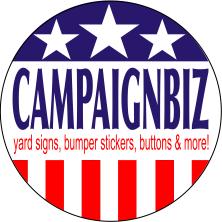 Winning Campaign Materials for
Winning Campaigns!
Call 800.526.8414
or
EMAIL: info@campaignbiz.com

SUPER SOAKER SPONGE
Drop it in water and watch it grow!
Available in 2 sizes.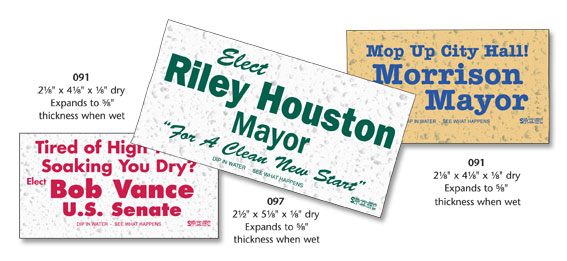 Super Soaker Sponge
with 1 color imprint
Size
250
500
1000
2500
2 1/8" x 4 1/8" x 1/8" dry
$300.00
$375.00
$500.00
$875.00
2 1/8" x 5 1/8" x 1/8" dry
$350.00
$450.00
$680.00
$1200.00
POP OPEN SPONGES
Two imprints for twice the impact.
Your message is printed on the front plus
your hidden message is printed inside!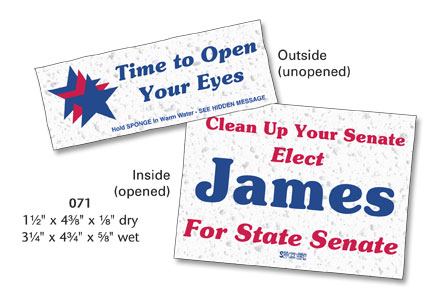 Pop Up Sponge
with 1 color imprint
Size
250
500
1000
2500
1 1//2" x 4 3/8" x 1/8 dry
$500.00
$625.00
$750.00
$1250.00