advertiseMINTS
Add flavor to your campaign message!
Bursting with flavor, advertiseMINTS are a
delicious way to spread your message.
Available in a wide range of mints -n hard and softt, striped or pastel-
these individually wrapped mints are an inexpensive way
to show your appreciation at campaign events.

Each mint or candy is individually wrapped for freshness. With our VuPack wrapper, you receive the best of both worlds; your custom imprint is easily seen on the white background of the package front and the mint is visible through the clear back of the packaging making it easy to coordinate your candy with your campaign colors.
Chooose your Mint or Candy!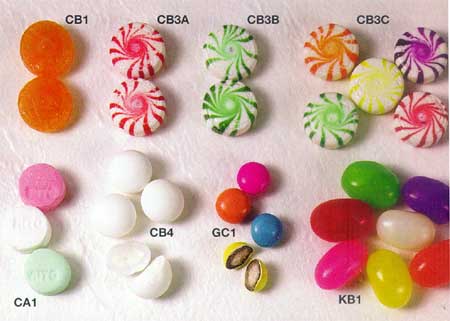 STANDARD MINTS
CA1: Soft Mint Discs - Assorted colors and flavors
CB1: Hard Butterscotch Discs
CB3: Hard Starlight Mints - Choose from Peppermint Red Striped (CB3A), Spearmint Green Striped (CB3B) or Assorted Red, Green, Lemon Yellow, Orange and Purple Striped (CB3C)
GOURMET MINTS
GC1: Coated Chocolate Mints - Assorted colors
CANDIES
KB1: Jumbo Jelly Beans - Assorted colors and flavors
advertisMINTS
with 1 color imprint
DESCRIPTION
1000
3000
5000
10,000
25,000
CA1 SOFT MINT DISCS
$65.00
$175.00
$270.00
$520.00
$1225.00
CB1 BUTTERSCOTCH
$70.00
$180.00
$280.00
$530.00
$1265.00
CB3A RED STARLIGHT MINTS
$70.00
$180.00
$280.00
$530.00
$1265.00
CB3B GREEN STARLIGHT MINTS
$70.00
$180.00
$280.00
$530.00
$1265.00
CB2C ASSORTED STARLIGHT MINTS
$70.00
$180.00
$280.00
$530.00
$1265.00
CB4 SCOTCH MINTS
$75.00
$200.00
$310.00
$590.00
$1400.00
KB1 JUMBO JELLY BEANS
$75.00
$200.00
$310.00
$590.00
$1400.00
GC1 COATED CHOCOLATE MINTS
$75.00
$200.00
$310.00
$590.00
$1400.00
Plate Charge: $20.00 for all new orders - no plate charge for repeat orders.
Set-Up Charge: $20.00 on all orders.
Stock Imprint Colors: Black, Red, Blue, Green, Burgundy, Gold, Silver