BUMPER STICKERS
Removeable, Self-Sticking Vinyl Zip Strips...Screenprinted in Glossy Inks.
Bumper Stickers have been a standard od campaigning for over 50 years!
WHY? They work!
Use them from the very beginning of your campaign
to develop name recognition throughout your ward, county, or state.
NO SET-UP CHARGES! NO ART CHARGES!
UNION LABEL AVAILABLE AT NO ADDITONAL CHARGE!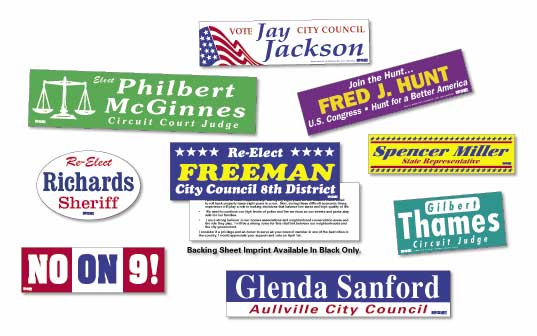 Choose between our VALUE LINE and STANDARD LINE Bumper Stickers.
Both our VALUE LINE and STANDARD LINE are available
with a Union Bug for no additional charge.
Our VALUE LINE combines our most popular size Bumper Stickers with our most
popular imprint colors. If you will be using 1 or 2 of the following imprint colors:
Fire Red, Ultra Blue, Medium Yellow, Emerald Green and/or Black
and if you are creating a bumper sticker in one of the following sizes:
3" x 11 1/2", 3 3/4" x 7 1/2", or 3 3/4" x 15"
THEN OUR VALUE LINE IS FOR YOU!
Our VALUE LINE offers the same quality bumper stickers as in our Standard Line
as well as 5 day production after proof approval and exceptional pricing!
CLICK HERE FOR
VALUE LINE BUMPER STICKER PRICING
If our VALUE LINE does not meet your needs,
you will find a vast array of stock imprint colors and additional sizes in our
STANDARD LINE.
Our STANDARD LINE allows for artwork with
more than 2 imprint colors and PMS Color Matching.
CLICK HERE FOR
STANDARD LINE BUMPER STICKER PRICING
Yard Signs & Posters • Large Format Signs • Bumper Stickers • Roll Labels • Campaign Buttons • Balloons
Magnets • Door Hangers • Palm Cards • Emory Boards • Sponges • Mints • Rally Signs
More Campaign Ideas • Artwork Guidelines • Place An Order • Contact Us